Wednesday: The team has officially announced the signing.
Tuesday: The New York Rangers have been looking for some depth at center since moving Derek Stepan to the Arizona Coyotes, and they may have found it on the open market. David Pagnotta of The Fourth Period is reporting that the team has agreed to terms with free agent David Desharnais on a one-year contract, though the team has yet to announce any deal. Larry Brooks of the New York Post has it at $1MM.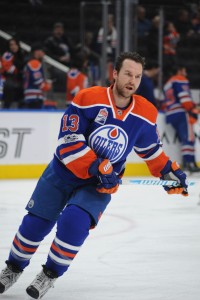 Desharnais was ranked #42 on our list of the top free agents this year, projecting the same one-year, $1MM deal. The former 60-point player hasn't had that sort of offensive success in several seasons, though did settle into a depth role with Edmonton after a mid-season trade. Now 30, the undersized center won't be relied upon in anything more than a bottom-six role in New York, with Mika Zibanejad and Kevin Hayes likely starting the season in the top two center roles. While he won't be replacing Stepan, the Rangers also lost Oscar Lindberg to the Vegas Golden Knights, and needed help down the middle in several different roles.
Still, for a team with dreams of another 100-point season, lining Desharnais up as your third-line center for the entire season is a recipe for disaster. He scored just 14 points last season split between Montreal and Edmonton, and though a bounce-back is definitely possible it's far from probable. It will be interesting to see how they deploy him, and if they move another player—like J.T. Miller—into a center role or try to acquire another one by trade. Either way, they'll hope the 5'7″ Desharnais will provide some value.
The other interesting note is the Rangers' cap situation and how little room they have to re-sign Zibanejad and Jesper Fast. Though those are their only restricted free agents of note, a deal for Desharnais eating any more than $1MM would make it difficult to sign both without moving out other salary. Both are arbitration eligible and looking for their third contracts, and are coming off a combined $3.6MM in 2016-17. Already with just $8.35MM in cap space, there isn't much wiggle room. If Kevin Klein does retire or go to Europe as rumored at one point, that would open up some more space or the team could potentially bury or buyout another contract to create some room. Either way, they'll have to spend their dollars carefully before an arbitration decision could force them to make another move.
Photo courtesy of USA Today Sports Images