After barely playing at all the past two seasons, Andrew Ference has officially announced his retirement. Ference turned 38 in March and was without a contract after his most recent deal with the Edmonton Oilers expired at the end of the year.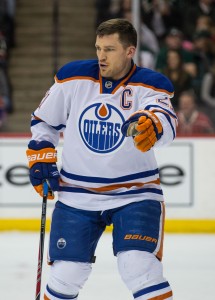 In 16 NHL seasons, Ference played a total of 907 regular season games and another 120 playoff contests. Never a pure offensive defensemen, he did put up a solid 263 combined points including a career-high of 31 in 2005-06. He was better known for his willingness to engage physically when he needed two, but mostly played a solid two-way game. His career featured a Stanley Cup victory in 2011 with the Boston Bruins, being named captain in Edmonton for the 2013-14 and 2014-15 seasons, and winning the King Clancy award in 2014 for his Leadership and Humanitarian efforts.
Ference, born in Edmonton, was a huge part of the Alberta city's community after he returned a few years ago. Involvement in charitable programs like the November Project (a widespread fitness initiative), the Hope Mission Shelter and toy drives for the Stollery Children's Hospital have made him a beloved figure in Edmonton even as his on-ice play diminished.
Last year, he spent the entire season on long-term injured reserve but remained focused on helping the NHL's renewable energy initiative that he has been a big part of since the start. Though he didn't contribute on the ice, he'll have a lasting effect on the game and city.
Photo courtesy of USA Today Sports Images