In a bold but perhaps unsurprising move,the New York Rangers will buy out the contract of defenseman Dan Girardi when the window opens tomorrow. For all the fans clamoring to find out why the team would not ask him to waive his no-movement clause before the expansion draft, this is an answer. Team President Glen Sather released a statement on Girardi's time with the team:
Dan's contributions to the New York Rangers organization have been immeasurable. He has been a role model through his relentless determination, giving everything he had to this organization both on and off the ice. He, Pam, Landon and Shaye will always be a part of the Rangers family.
The Rangers made it clear that they want to get younger on defense, and Girardi's hefty cap hit and declining play seemed the obvious choice for a buyout or trade. Because he held a full no-move clause, the team's hands were somewhat tied prior to the expansion draft, though it did drop to a limited no-trade clause this summer. While his $5.5MM cap-hit will no longer be on the books, the Rangers will incur a buyout cap-hit of the following:
2017-18: $2.61MM
2018-19: $3.61MM
2019-20: $3.61MM
2020-21: $1.11MM
2021-22: $1.11MM
2022-23: $1.11MM
Even though his play has dramatically declined over the past few years, Girardi has had an immense impact on the Rangers over his career. In parts of 11 seasons, he's played 788 games and recorded 230 points. Until this season, he had averaged over 20 minutes a night in every year since his rookie season even getting to a high of 26:15 in the 2011-12 season. That year he finished sixth in Norris trophy voting as the league's best defenseman. His Rangers have made it to the playoffs in 10 of 11 seasons, where he has logged huge minutes through his 122 contests. Even this year, perhaps knowing that it may be his last in New York, Girardi played with cracked ribs throughout part of the playoffs.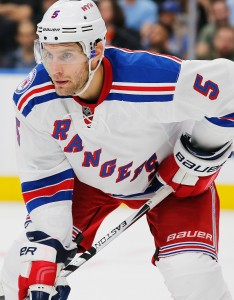 For the Rangers, this gives them more flexibility in the expansion draft and free agency, two upcoming concerns for the club as it looks to improve and get back to the playoffs next season. With several restricted free agents looking for new contracts including Mika Zibanejad, the team was going to be pressed right up against the cap should it stay relatively flat. Now, with the almost $3MM of savings this season they could go after another player on the open market. With younger players like Alexei Bereglazov and Neal Pionk already signed this spring, the team could go for a youth movement on defense and rely on Ryan McDonagh and Brady Skeij to anchor their top two pairs. Marc Staal, another possible candidate to be moved this summer, also has a no-movement clause and impeding cap-hit.
Girardi will now look to land on his feet somewhere else, and it's not inconceivable that he could sign a multi-year contract at a much lower salary. The soon-to-be free agent is right handed and does still provide some intangibles that are sought after on the open market, even if his performance has been critiqued for some time. Teams that want a veteran option on the bottom pair or as a depth defenseman could see him as a perfect option even at the age of 33. It will be interesting to see if he finds a home before free agency starts on July 1st, as he'll be a free agent for weeks before that date.
Realistically, he'll likely have to settle for a one-year contract to try and prove that he can still contribute 15-17 minutes a night in a more sheltered role. Though he's no longer an offensive contributor, he still does provide penalty killing experience and a penchant for shot-blocking. He also comes with plenty of leadership and playoff experience, something that young teams sometimes covet on the open market.
Photo courtesy of USA Today Sports Images