After nearly two decades with the Ottawa Senators organization, Chris Neil has been told he will not be returning to the team next year according to Bruce Garrioch of the Ottawa Citizen. He does want to play another season, meaning he'll have to find work on the open market when he becomes an unrestricted free agent on July 1st. It was clear that there is no frustration between the two sides, mutually agreeing to part ways.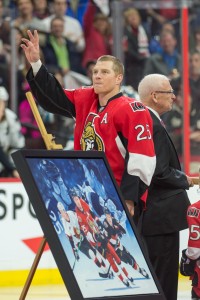 Neil, 37, was drafted by the Senators 161st-overall in 1998 as a tough kid with some scoring chops out of the OHL, and quickly made a name for himself in the IHL after turning pro. With more than 300 penalty minutes in both of his minor league seasons, Neil also showed he could chip in on the score sheet and proved it in the NHL with 10 goals as a rookie in 2001-02. Over his career he turned into the prototypical enforcer for the new NHL, able to skate and play well enough to contribute more than just a 30-second bout and five minute major each night. In 1,026 career regular season games, Neil registered 250 points and 2,522 penalty minutes.
When he becomes an unrestricted free agent, it will be interesting to see how many teams would be willing to bring him aboard. He suited up for 53 games for the Senators this season, registering four points and seeing the fewest minutes of ice time in his whole career. He can still get under the skin of an opponent with the best of them, but didn't fit into Guy Boucher's stifling defensive trap well enough to deserve any real role on the team. Somewhere else, he may find a spot adding some veteran leadership and experience while "protecting" a young lineup. Steve Ott's one-year deal with the Red Wings could be a good place to start as a comparison, which earned the aging pest $800K last season.
If he can't find a role, it wouldn't be surprising to see Neil move into some sort of coaching role eventually as many "tough guys" do. Garrioch writes that there has even been talk between Neil and the Senators about a role in the past, though it's unclear if there would still be interest. Neil and his family have made a big impact on the Ottawa community, including taking over as co-chairs of Roger's House, a children's palliative care center, after Mike Fisher was traded to Nashville. Whether or not he's ever connected to the Senators organization again, his impact on the people there will last much longer than his playing career.
Photo courtesy of USA Today Sports Images