According to Michael Russo of the Star Tribune, the Vegas Golden Knights will pass up a chance to pick a player from the Minnesota Wild. Instead, the team has signed Erik Haula to a three-year contract extension. In order for them to avoid Mathew Dumba and others, the Wild have also agreed to send Vegas prospect Alex Tuch while the Golden Knights will return a conditional draft pick.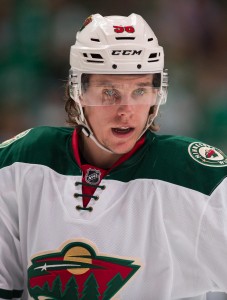 This is a huge move for the Golden Knights, and one that could have been expected after the protection lists were released. The Wild chose not to make a deal before the lists were due, instead deciding to trade directly with the source of their roster discomfort. Dumba, Marco Scandella, Eric Staal and others were left unprotected despite serious interest from around the league. Instead of watching one of their defensemen walk out the door, the Wild will instead have to part with their first-round pick from 2014 in Tuch and an effective secondary option in Haula.
The 21-year old Tuch made his NHL debut this season, after two successful years at Boston College. Though he was held scoreless in his six game stint, he did put up 37 points in 57 AHL contests and could make an impact down the line for the Golden Knights. Though he may never be a top-line player, his size and scoring ability should at least allow him to be an effective middle-six winger. The most important part for the Wild was that it wasn't Kirill Kaprizov, Luke Kunin or Jordan Greenway going the other way, three forward prospects that all may have higher ceilings than Tuch.
In Haula, the Golden Knights add to their forward depth with a versatile player who can skate at center or the wing. The 26-year old was due to become a restricted free agent for the final time in his career, coming off a deal that paid him just $1MM last season. His new contract will give the Golden Knights some cap certainty in the bottom of their lineup, while also gaining an asset. Russo doesn't have details on the conditional pick, but says that it is "complicated."
With trades for first-round picks from several teams and a report from last night implicating Shea Theodore in a potential deal with Anaheim, the Golden Knights are putting themselves in prime position to compete in the near future. "Asset harvesting" as George McPhee puts it is bearing fruit for the expansion team.
Photo courtesy of USA Today Sports Images