While the expansion draft is set to headline a busy NHL offseason, there are still several other storylines for each team in the months ahead.  Here is a closer look at what lies ahead for the Vancouver Canucks.
2016-17 was a year to forget for Vancouver.  Their season was mired with several slumps and what seemed like a ticking time bomb with their head coaching situation.  The inevitable happened early in the offseason with Willie Desjardins being let go with AHL coach Travis Green getting tasked to right the ship but there is still much work to be done.  Here are some of the things that GM Jim Benning will likely be looking to address this offseason.
New Deal For Horvat
There haven't been a lot of bright spots for the Canucks lately but Bo Horvat's continued progression would certainly be towards the top of the list.  He has taken on a bigger role in each season and has made solid strides at both ends of the rink.
Now, the 22 year old is set to enter restricted free agency for the first time (but does not have arbitration eligibility).  Benning has noted recently that they would like to focus on a long-term pact and skip the bridge deal with Horvat.  The team does have some financial flexibility to work with when it comes to the salary cap so there at least shouldn't be concerns on that end.
As Horvat is widely viewed as the closest to being a cornerstone piece of the franchise in the years to come, it will be interesting to see if the team looks to make his new deal the benchmark contract in that no signings down the road can be for more money than this deal.  Given all this, negotiations may take a while with Benning even suggesting that it could be a discussion that goes on for most of the summer.
New Goaltender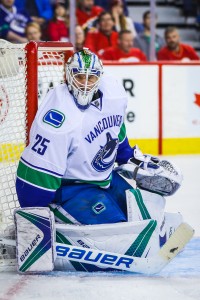 With Ryan Miller heading for unrestricted free agency, Vancouver will have a decision to make.  They also have Jacob Markstrom's three year, $11MM contract kicking in and as a result, they'll likely look to give him more starts which could push Miller out the door.
There are a handful of second tier options slated to be available on the open market in July while the upcoming expansion draft may also have a few other players changing places.  It's a year where supply will likely outweigh demand which should have Benning working with the upper hand.
A big decision the GM will need to make here is what type of term to give out.  Thatcher Demko is still quite likely to be the goalie of the future and although he just finished his first pro campaign, the expectation has been that he'll be ready fairly quickly.  Accordingly, whoever they do bring in to split duties with Markstrom is probably going to wind up receiving a short-term contract.
Scoring Help
Aside from the Avalanche (the one team who finished behind Vancouver in the standings), the Canucks were at the bottom of the league in goal production.  The Sedin twins are on the downswing of their respective careers (and have suggested in the past that they don't want to leave Vancouver despite their current situation) and the team doesn't have any players who are poised to jump into top roles next season.
That isn't to say that there isn't help coming as the late season addition of Nikolay Goldobin was certainly a promising one and 2015 draft pick Brock Boeser, who joined the team out of college, can also help.  While they're likely to receive lots of ice time, the team will likely want to shield them somewhat from taking on too much too quickly.
As a result, it won't be surprising to see Vancouver go after some scoring help in free agency even though on the surface it would seem to go against the idea of rebuilding.  That would ease the pressure off the young core and allow them to transition into the post-Sedin era, which may just be one year away.  Of course, with a lot of teams looking for scoring help in a light free agent market, this is something that's much easier said than done for Benning to try to accomplish this offseason.
Photo courtesy of USA Today Sports Images.