While the expansion draft is set to headline a busy NHL offseason, there are still several other storylines for each team in the months ahead. Here is a closer look at what lies ahead for the Calgary Flames.
After the team took some steps back in 2015-16, the Flames rebounded this season and got themselves back into the playoff picture.  That was the good news.  The bad news is that they were ousted about as quickly as they got there as Calgary was swept in the first round at the hand of the Ducks.  As a result, it's likely that GM Brad Treliving will be looking to make some tweaks to the team this summer.  Here are a few things he'll be trying to address.
New Goaltending
After a deal fell through with the Lightning for Ben Bishop last summer, the Flames turned to their next goalie on the list, acquiring Brian Elliott from St. Louis.  Elliott had played five strong seasons with the Blues but that success didn't translate to Calgary as inconsistency and soft goals were problematic.  As a result, he lost the starting job at one point during the season and then did not play well against Anaheim in the playoffs.  As a pending unrestricted free agent, it's not looking too likely that he'll be back.
Chad Johnson had a statistically similar season to Elliott which, for someone who was signed to be the backup, wasn't that bad.  However, he didn't show that he's capable of handling the number one role for more than a few games so he's not the long-term solution either.  Like Elliott, Johnson is also heading for unrestricted free agency but if he's open to a similar contract to the one he played under this season ($1.7MM), he could be back in a number two role once again.
Between free agency and the trade market which is likely to be buoyed by the expansion draft next month, the Flames should have plenty of options to choose from to give them help in the short-term to bridge the gap to some of their intriguing prospects including Jon Gillies and Tyler Parsons.  Supply should outweigh demand which should work in Treliving's favor as well.  They had a new goalie tandem in 2016-17 and that could very well be the case again next year.
Bridge Or Long-Term Deal For Bennett?
Sam Bennett is only three years removed from being the fourth overall pick in the draft but he has yet to consistently perform as a top six forward after being selected as a potential top line center of the future.  After a 36 point season in 2015-16, his production actually took a dip to 26 points this past season while he started to drop down the lineup as well.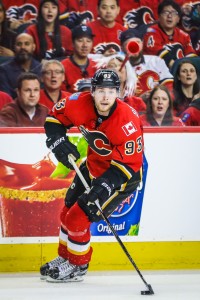 Bennett's entry-level contract is up and he is eligible for restricted free agency this summer.  In recent years, teams have largely shied away from giving bridge contracts to their high draft picks but this could certainly be a situation where this goes against the grain.  The short-term deals off entry-level pacts are often viewed as 'show me' contracts and after taking a step back this season, it's likely that the Flames will be challenging Bennett to show them that he can still be a top liner down the road.
Figuring out a long-term deal now would be tricky.  Bennett hasn't shown enough to command the greater than $6MM contracts that both Johnny Gaudreau and Sean Monahan inked last summer.  However, if the team went much lower than that, it wouldn't make a lot of sense for Bennett to sign as if he believed in his ability to bounce back, he'd be better off taking the bridge deal with the expectation that a much bigger pay day would soon await.  Given that narrow scope to work with, a short-term deal is by far the likeliest outcome.
Retool The Blueline
Last year, the Flames spent over $30MM on their back end (including Ladislav Smid's $3.5MM on LTIR).  It's likely that they'll want to allocate some of that towards their goaltending while trying to add some help up front.
Calgary has a trio of defensemen set to hit unrestricted free agency in Deryk Engelland, Michael Stone, and Dennis Wideman.  Combined, the trio carried a cap hit of over $10MM last season (after factoring in the 50% retention on Stone's contract by Arizona) so Treliving will have some money at his disposal as he looks to reshape Calgary's back end.
Wideman isn't expected to return while Engelland would likely have to take a pay cut from from the $2.9MM cap hit he carried.  Stone is coming off a down year but the soon-to-be 27 year old will still garner plenty of interest around the league this summer and it wouldn't be surprising to see the Flames in the mix.
As things stand, Calgary has more than $17MM tied up in their top three defenders in Mark Giordano, Dougie Hamilton, and T.J. Brodie.  That leaves room for one more notable signing (Stone or someone similar) but it wouldn't be surprising to see the bottom spots filled by depth players such as Matt Bartkowski or prospects like Rasmus Andersson and Brett Kulak.
With the number of players and money off the books this summer, if there was ever a time for Treliving to give the defense corps a new look, this is it.
Photo courtesy of USA Today Sports Images.