Yesterday when the Montreal Canadiens signed Jakub Jerabek to a one-year deal, many fans wondered where exactly he would play next season. The team already has Alexei Emelin, Brandon Davidson and Nathan Beaulieu on the left side, with prospect Mikhail Sergachev surely destined for the NHL next season. Veteran Andrei Markov also made it clear that he wanted to return, and they'll have to take a long look at him after another successful season. Eric Engels of Sportsnet writes that the Jerabek signing likely signals the end for Beaulieu, expecting the team to trade him before expansion draft next month.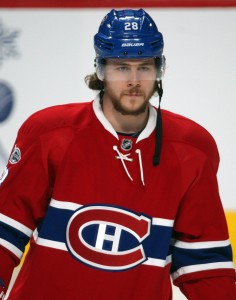 When CapFriendly reported last night that Jerabek's deal contained a European Assignment clause, it made it even more clear that the Canadiens would need to clear some room for him next season. The clause means that if the Canadiens want to send Jerabek down to the American Hockey League at any time, he instead can bolt and head back to the KHL or another professional league in Europe. Quite simply, it means he's in the NHL to stay for next season.
Unless the Canadiens deem Sergachev unfit for full-time duty—which seems unlikely after his second outstanding year with the Windsor Spitfires—and choose not to bring back Markov, it does seem like Beaulieu is the most likely to be moved. The 24-year old actually had an excellent season, with 28 points in 74 games while skating over 19 minutes a night, and has shown the potential that made him a first-round pick in 2011. While he is set to become a restricted free agent this year, his next contract shouldn't be prohibitive for whichever team that signs it.
For a team like the Canadiens who have been linked to several forwards over the past 12 months, Beaulieu seems a perfect candidate to be involved in the deal. Since they're not going after the top Russian name to help up front, it is almost certain that Marc Bergevin will pursue names like Matt Duchene, Jonathan Drouin or James van Riemsdyk should they truly become available. While Beaulieu obviously isn't enough for them straight up (at least not the first two), he could easily headline a package for them. It will be interesting to see what the league values him as; whether he's a true top-4 with potential to be even more, or a role-player capable of providing solid minutes on the third pair.
Photo courtesy of USA Today Sports Images