The Philadelphia Flyers have signed Mike Vecchione to a one-year, entry-level contract after a long pursuit. He'll burn through that year in the last five games of the season, earning a prorated version of $925K and become a restricted free agent this summer.  The team has been negotiating with Vecchione since Union College was knocked out of the NCAA tournament by Penn State last Saturday. Vecchione is one of the three finalists for the Hobey Baker trophy, awarded to the nation's top collegiate player. His 63 points tied him with Zach Aston-Reese for the top scorer in the NCAA, easily eclipsing his previous career high of 50.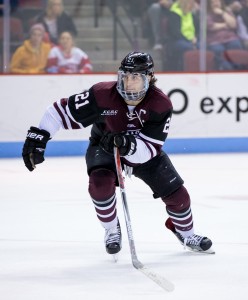 Vecchione is a two-way forward that will step into an NHL role with ease. He'll join former teammate Shayne Gostisbehere as part of the young group that will attempt to bring the Flyers back to the playoffs next season. The 24-year old has captained Union for the past two years, and from all accounts brings a level of leadership on and off the ice. Playing with Spencer Foo—another free agent who is expected to sign this summer—he exploded this season into an offensive powerhouse, scoring seemingly at will.
The first thing you'll notice about Vecchione is how low he sits in his skating stride, using his incredibly strong lower body to stay balanced at all times and quickly accelerate in and out of tight areas. While he doesn't have elite breakaway speed, his all-around skating ability is excellent and he can use his edge work to create space in the offensive zone. He's not a huge body (5'10" 195-lbs) but is definitely built well enough for the NHL game and uses what size he does have effectively to shield the puck. With a deceptive release he can get his shot off quickly and fool goaltenders, though that will become more difficult at the higher level.
In all, Vecchione should fit into the Flyers middle-six nicely next season, and could be an option on both special teams. On Union's powerplay, they use him in both the high circle on his off-wing (think Ovechkin, Stamkos) and as a bumper player in the high slot. A natural center, it's not clear if he'll fit into the Flyers' plans there but his right-handed shot could fit nicely with Brayden Schenn or Jakub Voracek who are both left-handed.
Pursued by many other teams, Eric Engles of Sportsnet reports that Tampa Bay the other finalist for his services, but didn't represent as much of a center option right away. Tampa already has decisions to make on whether to keep Steven Stamkos in the middle, or continue to use Brayden Point as a top-six option with Tyler Johnson. In any case, they missed out on Vecchione, who some called the best NCAA free agent this year.
Elliotte Friedman of Sportsnet was first to report the Flyers had signed the free agent forward, while Dave Isaac of the Courier-Post reported that he would join the team this year.