After reporting that it was down to just a few teams for University of Minnesota forward Justin Kloos, Michael Russo now reports that the Wild have come to an agreement with him on a two-year contract. Kloos will also sign an amateur tryout to play for the Iowa Wild for the remainder of this season.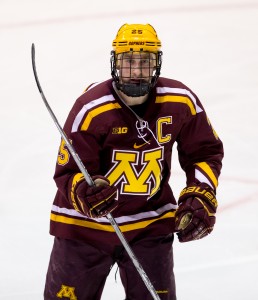 Kloos is a hometown boy for the Wild, growing up in Lakeville, Minnesota and won the state Mr. Hockey award before heading to college. During his stint in the NCAA, the 5'9 178-lbs center showed his drive and worth ethic every game, never slowing down or taking a shift off. His speed is his calling card and though he has some excellent playmaking skill, it's the ability to consistently beat defenders to loose pucks in the offensive zone that really intrigues.
Scoring at least 32 points in all four years, Kloos scored 43 in 38 games this season and captained the team the last two years. While he doesn't have the traditional size of an NHL center, he'll look to players like Tyler Johnson to try and emulate success in the top league. The ability to create both off the rush and below the goal line will benefit him as he joins the professional ranks.
It's not clear if the Wild will keep Kloos in the middle, but the team has often moved players in and out of the center position in order to build the best roster. Charlie Coyle and Mikael Granlund have both spent most of the season on the wing despite coming up as centers, and with Mikko Koivu and Eric Staal on the books for next season, it would be hard for Kloos to crack that group. He'll try to make his mark at the AHL level for the time being and prove he can compete with the bigger, faster players.
UMN has now lost several key players from their roster, with Kloos joining Vinni Lettieri and Jake Bischoff in the professional ranks. One to watch on the Golden Gophers next year will be Brent Gates if he decides to go back to school. The Anaheim Ducks third-round pick will be given more responsibility and should thrive after a solid sophomore season.