With the trade deadline quickly approaching, we will be profiling several players in the weeks ahead that are likely to be dealt by March 1st.
Winnipeg's Drew Stafford is often an overlooked piece of the Evander Kane blockbuster back in 2015.  He had a good first full season with the Jets but has underachieved this year which makes him a player that they may be looking to move in the coming days.
Contract
Final year of a two year, $8.7MM deal ($4.35MM cap hit and salary) – Will be a UFA in July.
2016-17
This hasn't been a good walk year to say the least for the 31 year old.  He has missed 21 games due to a pair of injuries this season and now that he's healthy again, he has found himself on the Jets' fourth line in recent games.
On top of those problems, his production has dried up.  After a 21 goal season in 2015-16, he has just four tallies on the year which, for a player who was expected to be a top six forward, isn't getting the job done.  Stafford's game isn't ideally suited to a checking role either which is why he has been dropped even further and looks like a prime change-of-scenery candidate.
Season Stats
39 GP, 4 goals, 8 assists, 12 points, -3 rating, 12 PIMS, 66 shots, 13:16 ATOI, 46.2 CF%
Potential Suitors
Stafford isn't going to fit into a top six role on a contending team but is the type of big winger that several teams may like on an offensive-minded third line.  As teams look to deepen their rosters at this time of the year, there should be some fits around the league.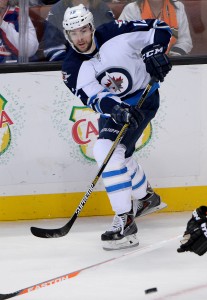 In the West, the Kings line up as a potential fit.  Head coach Darryl Sutter likes size on the wing and while they're a deep team on paper, several of their wings have failed to live up to expectations so an addition in that area is likely to happen.  While Stafford is also underachieving, he may prove to be a better fit in a third line role for them.  Nashville may also be one to watch for.  They have a good crop of wingers on the roster currently but their better prospects aren't fully ready for prime time action if injuries strike which makes someone like Stafford an intriguing insurance policy.
Out East, Senators GM Pierre Dorion has talked about the importance of forward depth all season.  While they've already added Tommy Wingels, Curtis Lazar's name has been popping up in trade speculation as of late and Stafford could serve as a replacement if the youngster moves.  The Bruins have played their way back into the playoff picture and have plenty of cap space to work with.  They have some underachieving wingers as well and may be looking to give a look to someone outside of the organization.
Likelihood Of A Trade
Considering Winnipeg's depth up front, it's reasonable to think that they will likely want to move him regardless of what route they decide to go on deadline day.  That said, Stafford's cap hit isn't something that many teams will want to absorb in full, especially considering how much he has struggled this season.  If GM Kevin Cheveldayoff is willing to retain to get a deal done, there's a very good chance he'll move as some teams will look at his track record and deem him worthy of a shot at a discounted price.  If they're not willing to hold any money back in the deal though, the odds of a move will drop considerably.
Photo courtesy of USA Today Sports Images.