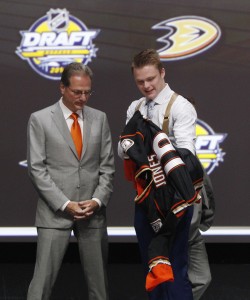 Update (4:00pm): Eric Stephens of the Orange County Register fills in some of the financial details, via Twitter. The deal comes with an NHL salary of $925K and an annual AHL pay rate of $70K.
Cap Friendly adds that the pact contains no performance bonuses in any of the three years. The tweet suggests this is the first ELC in seven years signed by a player chosen 24th overall that did not include performance bonuses.
2:49pm: After drafting Max Jones 24th overall in the latest entry draft, the Anaheim Ducks have signed him to a three-year, entry-level contract. No financial details were released.
Jones, 18, played last season in London alongside fellow first-rounders Olli Juolevi and Matthew Tkachuk and was a finalist for the OHL Rookie of the Year award. His 52 points in 63 games ranked him second among league rookies and sixth on the Memorial Cup winning Knights.
While he is still extremely young, Jones has matured physically and stands at 6'3″ 205 lbs. He uses that long frame and size to remove defenders from the puck, but can get a little overzealous in the physical side of the game. His 106 penalty minutes ranked him second on his team and eighth in the entire league. That would seem to lend itself perfectly to Randy Carlyle and the type of hockey the Ducks play; they led the league in fighting last season and brought in Jared Boll this offseason.
While Jones may not have the offensive flourish of some of his first round contemporaries, he's almost a lock to make it to the NHL in at least a bottom-six role. If his skating and creativity progress, he could find himself in a scoring power winger slot on an Anaheim team in the next few years.
Glen Miller also contributed to this post